Top 6 Best Free HDR Software in 2020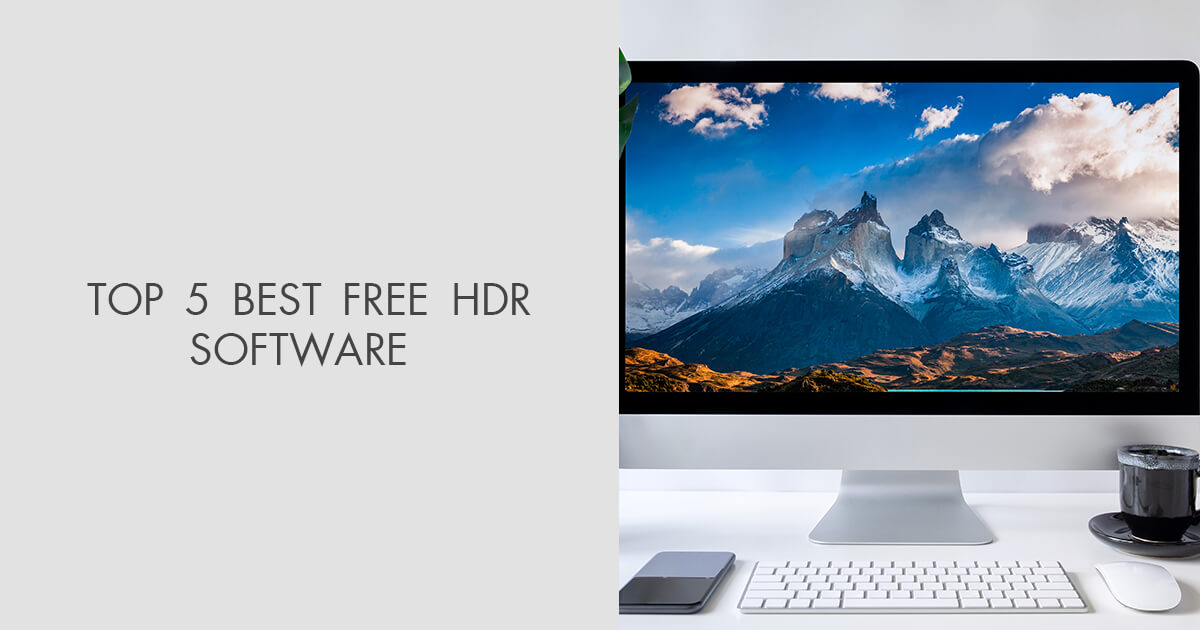 Top 6 Best Free HDR Software
HDR freeware performs basic tasks in the form of combining images with different exposures into one, moreover, it can also perform tone mapping, image alignment, ghost removal, and noise reduction, while the standard paid programs cease to amaze with something, offering the old, time-tested functionality.
You may always download Free HDR presets or Free HDR Actions if you've subscribed to Adobe plan and have Lightroom or Photoshop.
1. Aurora HDR
Best HDR software for Windows and Mac OS
Editors' Rating (4/5)
Mac OS / Windows
USE AURORA HDR FOR FREE
Pros+
Introduced artificial intelligence
Advanced Presets/LUTs
Non-destructive editing
Support for layers and masks
Cons-
Some compatibility issues with graphics cards
Free version limited in time
It is the best free HDR software option for macOS users is Aurora. Despite being paid, it can be used with no functional limitations for an entire month. It can work on its own or as a plug-in for Photoshop CC or Elements, Lightroom, and Apple Aperture.
Similar to any free HDR photography software, there is a function of combining bracketed photos that have been taken with a difference in exposure or making a tonal map for one shot that has been taken in RAW. Plus, the photo editor has such instruments as layers, masks, and overlays in Photoshop mode.
Highly satisfying is the program's non-destructive photo editing capability. You can easily cancel any setting and even return to your rough copy and start all over again.
Also, a powerful addition to Aurora HDR 2020 is the Skylum's latest Quantum HDR engine which is "powered by artificial intelligence" and, according to Skylum, offers impressive color enhancements without ghosting, noise artifacts and chromatic aberration (color fringing).
Considering the filters and functions, they are nowhere near as simple as you might think, judging by the plain interface. Many are powerful and some even unique. Some involve artificial intelligence (Smart Tone, HDR Clarity, HDR Smart Structure), others are completely new (HDR Enhance Filter, Dodge and Burn, Adjustable Gradient, LUT mapping). The abovementioned Enhance Filter works great for increasing image clarity but it is also quite good at achieving a clear and detailed, classical look.
2. InPixio Eclipse HDR Pro
Full control over lighting
Pros+
50+ impressive features
Over 40 creative presets
HDR DeNoise function
RAW photo editing
Cons-
InPixio Eclipse HDR Pro is a professional image editor that is meant for creating and editing high-quality photos and images of the HDR class. This intuitive software will cope with improving all sorts of shots, like landscape, interior, panorama, architecture, real estate and more.
Eclipse HDR comes with a full RAW image editing module that lets users optimize RAW pictures. Edit color, brightness and saturation in specific areas of pictures with a wide selection of curves. Also, users can completely transform the colors in pictures without branding or artifacts.
3. Luminance HDR
Open-source and advanced HDR tools
Editors' Rating (5/5)
Mac OS / Windows / Linux
Pros+
Advanced sketches
8 tone mapping algorithms
Customizable interface
Excellent export opportunities
Open-source
Cons-
A rather steep learning curve
Previews poorly designed
Luminance is an HDR free software, open-source and multiplatform. For more convenience, you can manually configure the interface (change the location of instruments, delete or add them to the working canvas).
The uploaded images can be rotated, resized and cropped. There are eight tone mapping algorithms, picture straightening, ghost removal, and denoising. Plus, the update introduced automatic anti-ghosting, which is especially appreciated by real estate photographers.
Among the advantages of Luminance are the sketches that it creates using various algorithms available. This allows users to easily select their favorite thumbnail and then make minor adjustments.
Some fragments of the best free HDR software interface are great, for instance, the EV focused histogram that displays the dynamic range, but other fragments only cause confusion. Among the numerous tone mapping settings, the 'Operators' can be found with no explanations as to what they do.
Plus, with each and any change to those image settings, you have to refresh the preview window yourself. It wouldn't be bad to have the preview updated itself after you adjust the sliders as well because otherwise having to click the "tone map" each time is bothersome.
Once you're done, save in one of the HDR-supporting extensions: OpenEXR, Radiance RGBE, Tiff, Raw and PFS native format. Except for the cases when you don't plan to use the free HDR photo software for viewing the photo but will resort to a portable device, then consider using the tonal compression of that photo and saving it in JPEG/TIFF.
4. Picturenaut 3
Great choice for a beginner (has advanced plug-ins)
Editors' Rating (3.5/5)
Mac OS / Windows
Pros+
You can expand the functionality with plug-ins
Fast tone conversion
Advanced noise correction settings
Simple learning curve
Cons-
Does not support OpenEXR and Radiance RGBE format
Unsatisfactory results with hand-held shots
Another best free HDR software option with open-source code. It is a good choice for beginners, being well-designed and user-friendly. But this doesn't mean it is functionally weaker.
The free HDR editor is built on a multi-threaded and consistent architecture, which allows it to convert tones carefully in the shortest time.
This HDR software for Windows and Mac provides the viewing of the alpha channel, basic parameters of automatic alignment, cropping, and de-ghosting. All settings for tone mapping and editing are determined prior to creating an HDR composite. Among other settings, there are familiar automatic and manual exposure correction and noise compensation.
Working with photos is greatly facilitated by a wide range of plug-ins, such as Gaussian Motion Blur, Diffuse SH, etc. It is worth mentioning that personal plug-ins can be configured here for later use, too, by saving the settings you apply.
Moreover, the newest HDR photography software free update introduced the support for plug-ins written for HDRShop allowing you to constantly top-up your library.
You can save in one of the common extensions like TIFF, JPEG, TGA, RAW. HDR formats are available in TIFF float, OpenEXR, PFM, Radiance RGBE.
5. FDRTools
Advanced non-destructive HDR editing
Editors' Rating (3.5/5)
Mac OS / Windows / Linux
Pros+
Non-destructive editing
Advanced tone editing
Cons-
Outdated interface
Does not support ghost removal
FDRTools is among the best free HDR software for creating HDR images and performing tone mapping. It is being mocked for an unreasonably designed interface, featuring lots of windows scattered across the screen (reminiscent of the earliest versions of Windows).
Its biggest difference from other free HDR programs is in the aim to make up for a deficiency between the processes of merging and tonal mapping. If normally the typical workflow is the preliminary selection of source photographs and their combination, after which the tone mapping is performed, this program concentrated on bridging that gap.
You are allowed to see the tonal image and make alterations to the merger of the original images as it happens. Edit at any stage, for example, change the white balance and remove halos even during the final stages of work.
It generates HDRI based on JPG, TIFF, and RAW files and can open Radiance RGBE and OpenEXR formats.
The tone mapping is enhanced compared to the algorithms other HDR freeware uses. After choosing one of the 3 methods, adjust gamma, saturation, brightness, contrast and compression level settings become available.
Unfortunately, FDRTools does not offer any presets for tone mapping and cannot perform ghost removal, unlike the previously tested programs.
6. Photomatix Pro
Can be used as a plug-in for Lightroom/Photoshop
Editors' Rating (4/5)
Mac OS / Windows / Linux
Pros+
Support for a large number of plug-ins
Can be used as a plug-in for Lightroom/Photoshop
Fast distortion/noise correction
Global source image blending
Cons-
Weak export opportunities
Complex learning curve
If you're searching for Linux HDR software, take a look at this professional program that also works on Mac and Windows. Advantages include combining, correcting, and editing exposure brackets regardless of whether you're editing one image or a batch.
By combining the images, you can adjust the saturation and the level of the curve range. In addition, you can fix image distortion, depth perception, and do some more complex work on readjusting the photo. Comprehensive alignment and de-ghosting options also exist, plus, the possibility to apply lens correction, noise reduction, and chromatic aberration is also provided while you're importing the photo.
You get enough control over your tonal display and nine predefined categories of styles, including natural, realistic, picturesque, architectural, and B&W (more than 30 presets are available in total).
Just like Aurora, it can perform such functions on its own or as a part of Adobe Photoshop CC and Lightroom.
I am pleased that in the latest update, there was introduced support for the selective brush and global blending applicable to the original image with its edited version. That could possibly end up with excessive HDR rendering but Photomatix avoids this trap with its new tone balancing feature.
It is worth mentioning that the program is limited in export variants, it does not send the results to other programs or exchange functions. There is only the classical "Save As" button. Just three extensions will be available for saving finished photos: 16-bit or 8-bit TIFF and JPEG.
What Is HDR and Why to Use Special Software?
In photography, HDR stands for the high dynamic range. Dynamic range refers to measuring the diapason of light intensity from darkest to lightest. It allows you to blend several photos together to get light and shadow details that you can't get in a single photo. Today many software have the ability to merge HDR photos but which ones do it the best?
Images with high contrast have a large dynamic range but even professional cameras are limited in capturing it. As a result, there is no way of preserving both the shadows and the highlights in their full capacity in one image.
You might have encountered that when setting your camera for the landscape and getting a washed-out or blurry sky. If you try to set your camera for the sky instead, the landscape will be just too dark or deprived of the details.
Fortunately, professionals can use HDR photo software free of charge and set several different exposures while capturing one spot to later merge them into a picture with a wider dynamic range.
HDR works on the following principle: when you see a picturesque sunset, your eyes adjust to block out some of the light that reaches them. In the meanwhile, your brain maintains the details of the shadowed spots in the landscape and fills them in on the go, tricking you into thinking that you're capable of seeing everything equally well.
Your eyes do not actually capture the whole variety every instance, they are switching between shadows and highlights so fast that you don't perceive it.
To recreate the same illusion, photographers use the best free HDR software. It can recover data from the darkest and lightest areas within one photo thus eliminating the need to take separate shots with different exposures.